The whiteness and health of your teeth depend not only on basic care but also on the food you eat. You can see a dentist every so often and use popular whitening products but if you love certain foods, that less-than-perfect smile will keep coming back. You should pay attention to the foods you eat and how they affect the health of your teeth.
Here at WikiDame, we've made a compilation of different foods that have a positive or negative influence on the appearance of one's teeth.
Foods that save teeth and gums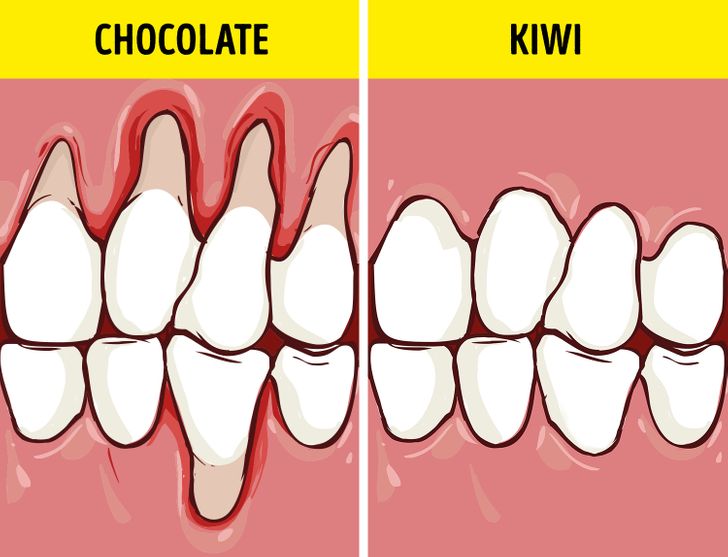 In order to take good care of your teeth, dentists recommend eating these foods:
Carrots. Carotene is good for the mucous membranes of the mouth and the gums. It also makes tooth enamel stronger. Fresh carrots are a great way to maintain healthy teeth, it removes plaque and massages the gums.
Fish. Everyone knows that teeth need calcium, but phosphorus is also one of the most important elements for keeping the teeth healthy (but keep in mind that fish may cause an unpleasant odor).
Parsley. This is one of the main sources of calcium and besides, parsley has a cosmetic effect on the teeth (which we'll touch on later in the article).
Apples. Apples are incredibly effective when it comes to treating tooth problems and preventing them. They massage the gums well and remove dental plaque all while making the breath fresher.
Kiwi. This fruit has a lot of vitamin C. If you lack vitamin C, the production of collagen decreases and gums start bleeding.
Onion. This is a natural antibiotic that kills harmful bacteria in the mouth.
Chicory. Its function is to stimulate the blood flow in the mouth.
Sesame. It removes dental plaque very well and makes the enamel stronger.
Cheese. Hard cheese has very little salt and a lot of calcium. Cheese helps to keep the right pH-balance that doesn't let bacteria reproduce (some kinds of cheese can cause an unpleasant smell).
Green tea. The catechin in green tea kills the kinds of bacteria that cause cavities. Besides, green tea makes your breath very fresh.